The right product for your dealership's promotion or event is important and we want to help create it. Several decoration locations and decoration methods are available on our in-stock product selection. See examples of some locations below.
Example Shirt Locations and Cap Locations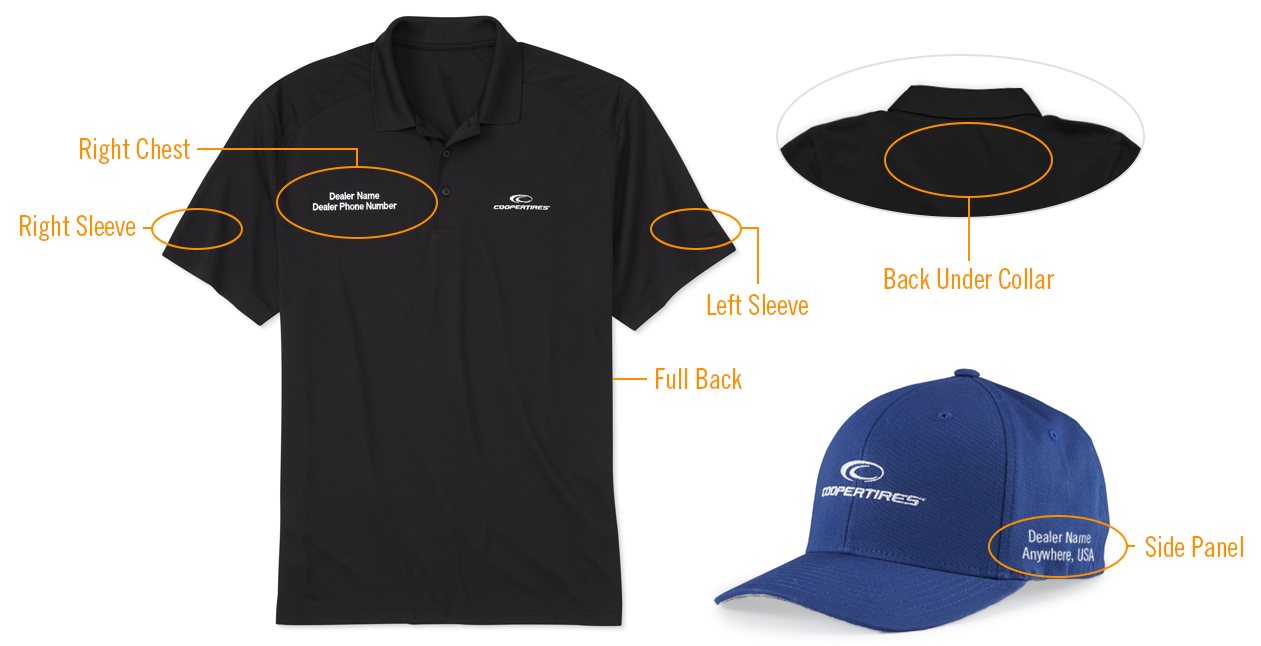 Why Personalize
Dealer Imprinted items are essential to help your dealership promote itself. Imprinted gifts are perfect for loyal Cooper Tires customers, employee appreciation, giveaways, and many other Cooper Tires sponsored events. Stay top-of-mind with a dealer personalized promotional product.
If you need something not shown on the eStore, please contact:
Staples Promotional Products
888-556-4423
Promogear2@staples.com
We've done the math behind your partnership with Cooper Tires.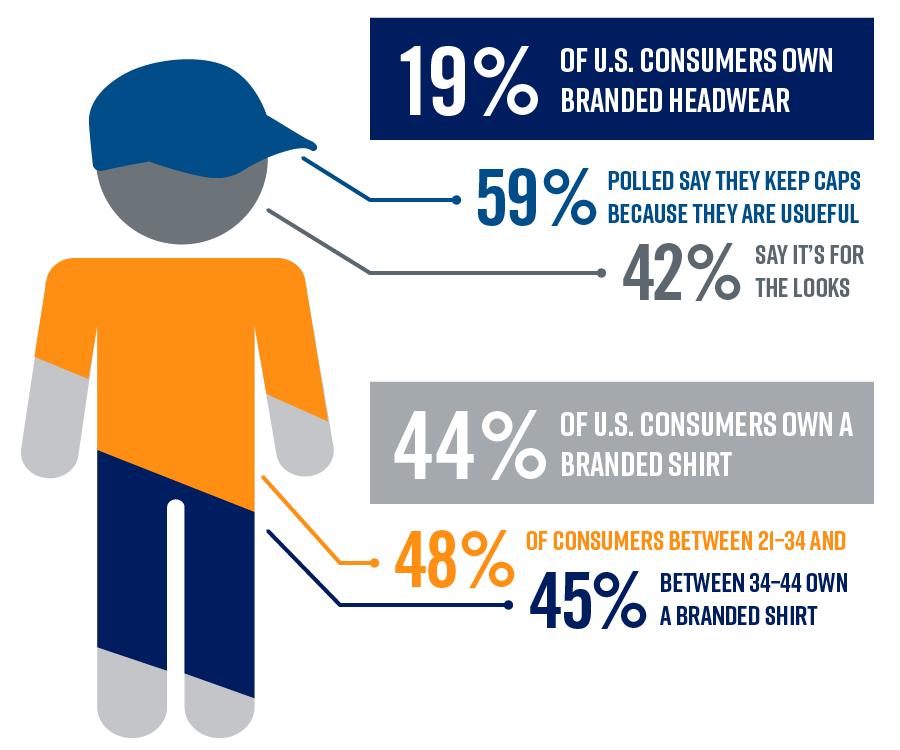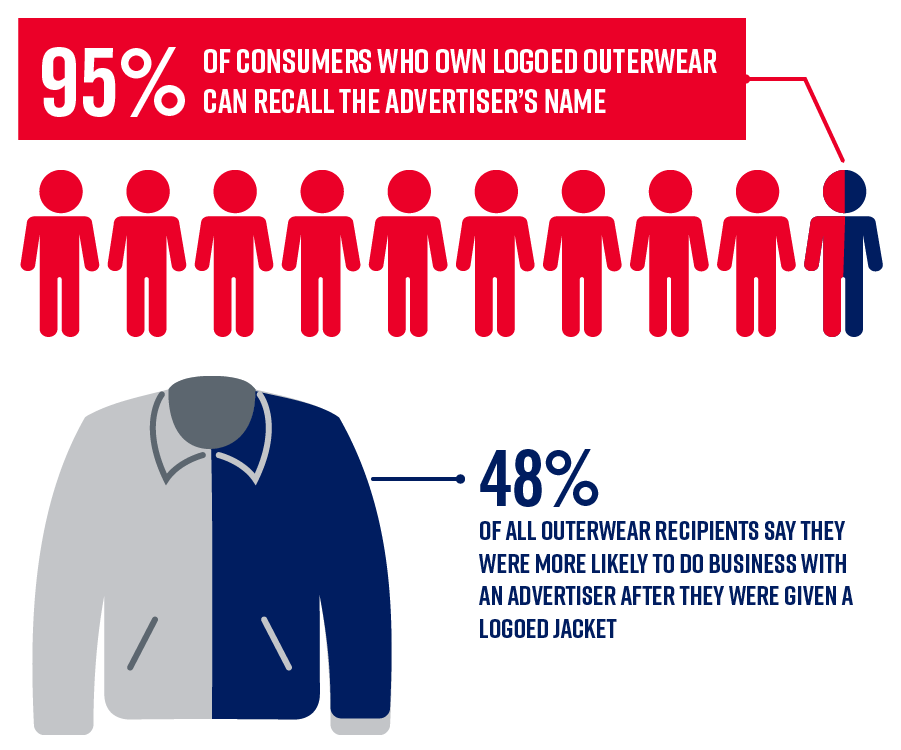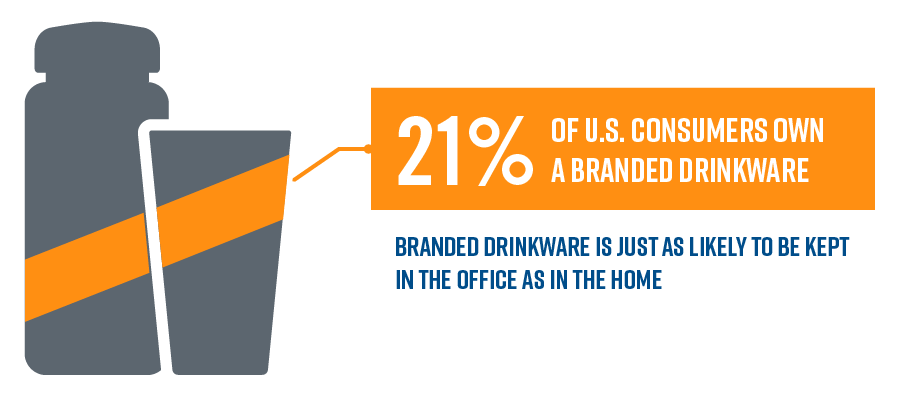 Personalizing a Product with your Dealer Imprint
The Cooper Tires eStore offers a variety of products that are available with Dealer Personalization–also called Dealer Imprint. These products may now be ordered online in addition to via phone or fax. Products available with Dealer Personalization are selected in advance. All products currently available with Dealer Personalization are located in the Dealer Imprint tab on the top navigation bar. The corresponding products without the Dealer Personalization option will be shown throughout the eStore in their respective departments. Dealer Imprint items incur an additional charge and usually have longer production lead times and minimum order quantities. This information is provided in the special Personalization display box for each applicable product.
Products that can be ordered with Dealer Personalization are located in the Dealer Imprint tab. Not all products shown on the eStore are available with this option. When Dealer Personalization is available, a special display box will appear when you click on a thumbnail image. If Dealer Imprint is not available on a specific product, no special Personalization box will appear.
Use the standard quantity boxes to indicate how many of the item you wish to order. Apparel items may be ordered in a variety of sizes to meet the minimum quantity. Fill in each appropriate size box with the desired quantity of each.
If the item is available with Personalization and you want to order that service, check the box.
Note the lead times, quantity minimums, pricing, and other applicable information.
Enter the information to be Personalized on your product (e.g., Dealer Name).
Double-check your entry for accuracy of spelling, phone numbers, etc.
Click on the Add to Cart button.
Continue shopping or proceed to check out.
Personalized items require a minimum order quantity (usually 12 pieces or more, depending on the product). This minimum quantity is displayed in the Personalization display box for each product with this service available. In addition, Personalized items are limited to a specific number of lines and characters per lines, based on product and space limitations. The exact same information is added to all of the pieces ordered. All information is in straight-line letters, not logos. Form-fill box(es) will be included in the display box so that your information can be collected. These boxes do not appear until after you've checked the "Personalization" box. For example,
If you wanted to add your Dealer location to a polo shirt that is available with Dealer Personalization, you might order 12 (the minimum indicated in the Personalization box) with the following information: Dealer Name City, State
The sizes you order may vary, but the information is the same on all 12 items ordered.
An additional charge is incurred for Personalized items.
Decoration Styles
Each product that is available with Personalization and/or Monogramming has a pre-selected letter style such as Block lettering, Helvetica, etc.
The location where the Personalization/Monogramming information will be added is pre-determined by the manufacturer and/or your company representative and can change from item to item. This location is usually specified in the product copy description.
Items that are Personalized have longer production time than those ordered from existing stock without this service.
Lead times are displayed for each product. Those lead times are the number of working days required before shipping. Shipping time is additional and depends on the shipping method selected. Be sure to anticipate these times when ordering Personalized items for an event.